Yet another twisted Muslim rapist jailed for a  sex attack in Manchester off to join the many more of his Muslim brothers in Britain's overflowing prison system.
Samaun Shan: 'Depraved' Trafford rapist jailed for eight years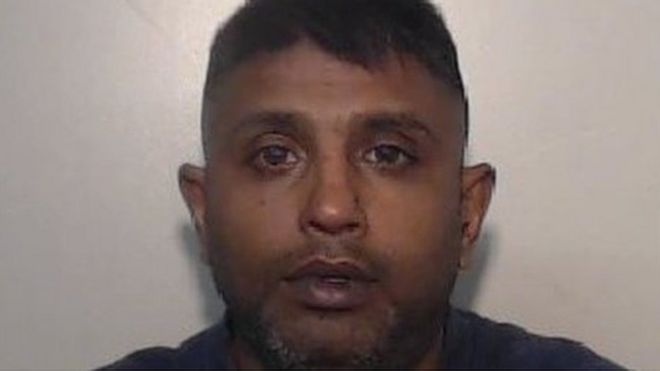 A "depraved sexual predator" who subjected a woman to a "terrifying rape" has been jailed, police said.
Samaun Shah, of Hornby Road, Stretford dragged her into a car park in Trafford at about 03:15 BST on 4 April and raped her, said Greater Manchester Police.
Det Con Paul Walls said Shah targeted his victim, who was in her 40s, after she asked him for a cigarette while walking to Tesco on Chester Road.
Shah, 44, was sentenced to eight years after his trial at Bolton Crown Court.
After giving her a cigarette, police said Shah insisted that she walk with him to Old Trafford Metrolink station.
He then dragged her into a deserted car park and assaulted her.
Shah denied any involvement when he was arrested, claiming he had been in bed at the time.
He carried on denying the offence even when he was shown CCTV footage of him and the woman walking together.
'Sexual predator'
Det Con Walls said a dangerous man had been taken off the streets.
He added: "Samaun Shah is a depraved sexual predator who preyed on a vulnerable woman who had merely asked him if she could have a cigarette.
"He took her to a spot where he thought nobody would see him and subjected her to a terrifying rape, the memory of which will stay with her for the rest of her life."
He said Shah's repeated denials, even when faced with CCTV evidence, highlighted "the arrogance of a man who thought he could get away with his despicable crime".