Islamberg, USA . The Muslim Only Town Where Residents Learn Guerilla Warfare Tactics
Islamberg, located in rural upstate New York, is a 70 acre  underground-bunkered paramilitary Islamic compound. Here within the compound lives a Muslim only community. The majority of these are black  american born males, hardened criminals who converted to radical Islam whilst serving time in state prison. It is also the headquarters of Muslims of the Americas, the International Quranic Open University  and the United Muslim Christian Forum. Islamberg is the best known among 35 such compounds, ranging in size from 25 to 300 acres, that already dot 22 states across America. Evidence suggests these Islamic compounds and the convicted criminals who live their are participating in jihad training and using crime to raise funds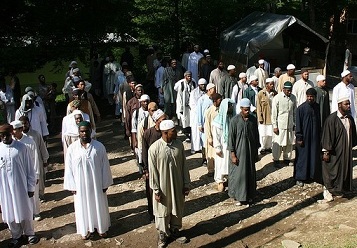 Islamberg and the other 'Muslim only towns' and these organizations are led by a radical cleric in Pakistan named Sheikh Mubarak Ali Gilani. He is the leader of Pakistani terrorist organization Jamaat al Fuqra . Muslim shoe bomber Richard Ried allegedly was heavily influenced by the group and its leader Gilani. 
Jamaat al Fuqra is the Pakistani Islamic group responsible for a string of murders, bombings and other terrorist acts across the world, including in the USA. Its chapter in America calls itself, "Muslims of America" (MOA), and actively recruits at mosques and prisons, where African-American inmates are especially targeted.
And Syed Mubarak Ali Shah Gilani is the man whose Al Qaeda links Daniel Berg, the Wall Street Journal reporter, was investigating and on his way to interview in Pakistan as arranged in 2002 when he was betrayed and eventually beheaded. Pakistani police arrested Syed Mubarak Ali Shah Gilani after Berg's murder.
Islamberg has a makeshift mosque, a shack that is modestly named, "International Quranic Open University." and occasionally holds public relations events to project a non-threatening image to the non-Muslims outside.
Away from their eyes, however, Islamberg, which is located near the reservoir that supplies most of New York City's drinking water, and the other MOA compounds in America train recruits in firearms usage, bomb making and guerilla warfare , as Syed Mubarak Ali Shah Gilani declared in a recruiting video that was not intended for non-Muslim audiences:
"We give [our recruits] specialized training in guerilla warfare. We are at present establishing training camps. You can easily reach us at Open Quranic offices in upstate New York or in Canada or in South Carolina or in Pakistan." - Syed Mubarak Ali Shah Gilani
In 2001, ATF Special Agent Thomas P. Gallagher testified in court that "Individuals from the organization [Muslims of the Americas] are trained in Hancock, N.Y., and if they pass the training in Hancock, N.Y., are then sent to Pakistan for training in paramilitary and survivalist training by Mr. Gilani."
In 2009, Clarion Project National Security Analyst Ryan Mauro obtained a Muslims of the Americas tape showing women at Islamberg receiving guerilla warfare training while dressed in military fatigue. The trainees were seen marching in formation, practicing hand-to-hand combat, learning to use knives and swords and firing guns into a lake. Only the first two digits in the on-screen date could be seen, indicating it was made in 2000 or afterwards
In 2012, a former high-level Muslims of the Americas member that lived at Islamberg for two years described widespread abuse, forced marriages and brainwashing at the commune. He said that almost all of the children are privately schooled and are illiterate. He said that he saw a 50-year old woman tied to a tree and beaten for violating the strict moral code.
Please consider sharing this post with your friends and  like our new Facebook page  to raise awarenes. Help in the struggle to stop the Islamic quest for World domination before its to late
Posted on March 14, 2013, in JIHAD AND VIOLENCE, STEALTH JIHAD, THE BOOK OF EVIL AND ITS TEACHINGS and tagged AMERICA, BEHEADED, COMBAT, COMPOUND, CONVERTS, CONVICTS, DANIEL BERG, FIGHTING, GUERILLA WARFARE, GUNS, HAND TO HAND, HATE CLERIC, ISLAM, ISLAMBERG, ISLAMIST, Jamaat al Fuqra, JIHAD, JIHADIST, MOA, MUSLIM, MUSLIM TOWN, MUSLIMS OF AMERICA, NEW YORK, PAKISTAN, PAKISTANI, RADICAL, REPORTER, RICHARD RIED, Sheikh Mubarak Ali Gilani, SHOE BOMBER, TERRORIST, TRAINING, USA, VIDEO. Bookmark the permalink. 23 Comments.